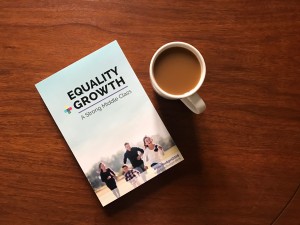 Well folks, Budget 2018 is out and it's good news for Nova Scotia and Atlantic Canada. This morning, I thought I'd mention a few things that stood out to me.
From improving the Working Income Tax Benefit, to making Employment Insurance more responsive and effective, to taking the first step toward implementing National Pharmacare in Canada – we've listened to Canadians and we're making sure that every Canadian has an equal and fair chance at success.
Budget 2018 will advance women's equality in Canada, which will drive economic growth and boost the income of Canadian families. We'll provide leadership to address the gender wage gap, by supporting equal parenting, tackling gender-based violence and sexual harassment, and by introducing a new entrepreneurship strategy for women. The new Employment Insurance Parental Sharing Benefit will give greater flexibility to parents by providing an extra 5 weeks of EI parental benefits when both parents agree to share parental leave.
Many of you know that I'm a member of the Standing Committee on Environment and Sustainable Development, and we've advocated strongly for increased conservation funding in Canada. Budget 2018 proposes one of the largest investments in nature conservation in Canadian history – and I couldn't be more proud. By working in partnership with provinces, territories and Indigenous Peoples we can protect our ecosystems and biodiversity, including species at risk. Plus this will help us meet targets and conserve 17% of our land and inland waters!
https://www.budget.gc.ca/2018/home-accueil-en.html