On November 16th, 2017 we honoured 150 people at the Dartmouth-Cole Harbour Canada 150 Awards.


We held open nominations and the public picked constituents who have made significant contributions to our community and country.
Dartmouth-Cole Harbour Canada 150 Nomination Criteria: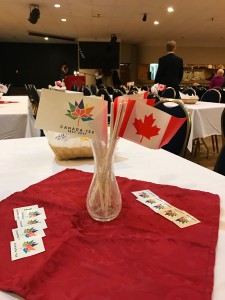 Nominees should be past or present residents of Dartmouth-Cole Harbour and should meet at least one of the following criteria.
• Have made a significant contribution to Canada, Nova Scotia and Dartmouth-Cole Harbour.
• Have made an outstanding achievement abroad that has brought great credit to Canada, Nova Scotia and
Dartmouth-Cole Harbour.
• Have shown outstanding leadership, compassion and engagement as a volunteer in Dartmouth-Cole Harbour.
• Have made a difference in Dartmouth-Cole Harbour through active citizenship and support of newcomers to Canada and
our community.
• Have made selfless contributions of kindness to others in Dartmouth-Cole Harbour.
Dartmouth-Cole Harbour Canada 150 Award Recipients:
Sylvain Allaire
Shelly Alward-MacLeod
Beverley Amiro
Robert Anthony
Sylvia Anthony
Joanne Arbuthnott
Alan Attwater
Stephanie Attwater
Carlos Beals
Terry Beard
Danny Berrigan
Terie Berube
Vishal Bhardwaj
Steve Breed
Ken Brown
Michelle Brown
Patricia Burchell
John Burton
Matt Cameron
Ken Campbell
Sharon Carroll
George Chater
Dr. Rev. Cynthia Chenard
Tim Chestnut
Ginnie Clarke
Claudette Clattenburg
Lucien Comeau
Kim Conrad
Lionel Conrod
Robie Cooper
Cathy Deagle-Gammon
Mark Decker
Jennifer Decoste
Clarence Dent
Jack Devenney
Kayley Dixon
Darren Doucette
Alana Doucette
Leslie Dunn
Luke Elwood
Ron Fagan
Dr. Maryanne Fisher
Elaine Fitzgerald-Muise
Robert Fougere
Jenn Frail
Paul Gauthier
Joanne Geddes
Joe Gibson
Bob Goudey
Karen Goudey
Bruce Grainger
Lana Grant
Chris Guildford
Rodney Habib
George Habib
Salwa Habib
Kate Hamilton
Doug Haney
Elaine Haney
Cheyenne Hardy
John Harrison
Barb Hart
Bernie Hart
Greg Hayward
Victor Henrikson
Terry Hill
Robert Hogg
Art Hood
Ginny James
Marie Jones
Stacy Juckett-Chestnut
Paul Keinick
Paul Kent
Brent Kerr
Alden Killen
Jill Knowles
Jim Lambie
Sandra Lambie
Doug Livingston
Jean Llewellyn
Alana Loh
Una Lounder
Debbie Lowther
Jim Lowther
Ian MacCormick
Daniel Henry MacDonald
Pamela MacDonald
Luke MacDonald
Bea MacGregor
Ralph MacKenzie
Blair MacKinnon
Tom MacLeod
Brenda MacNeil
Linda MacRae-Triff
Richard Malin
Dalyce Mallion
John Martin
Paul Mason
Bob Mayo
Catherine McCarthy
Gloria McCluskey
Cathy McKelvey
Bill Mills
Hugh Millward
Alan Mitchell
Alex Mitchell
Evelyn Mitchell
Sandra Mitchell
Matthew Moir
Shirley Morash
Lee Muir-Buckley
Cyril Muise
Hector Muise
Margie Muise
Amanda Nickerson
Cherryl Oake
Joanne Oostveen
Graham Owen
Dick Patterson
Kathryn Patterson
Lorraine Pickett
Nick Plasse
Laura Poirier
Don Pooley
Tracey Preeper
Audrey Pride
Joel Rafuse
Jim Reardon
Tim Rissesco
Paul Robinson
Bill Sampson
Joyce Sawler
Bob Sawler
Bernie Schultz
Nancy Schultz
Beth Spencer
Kevin Springer
Lois Stark
Norman Steele
Bert Thompson
Kate Watson
Warren Wesson
Grace Whebby
Greg White
Bev Wicks
Sonny Wicks
Elizabeth Holly Woodill
Debra Woolway
Rana Zaman
We are grateful that photographer Josh Senman volunteered his time for the Dartmouth-Cole Harbour Canada 150 Awards. Thank you for all the wonderful photos, Josh!
Please click on a photo to view the full file size. To save a photo, please 'right click' and press 'save as'.