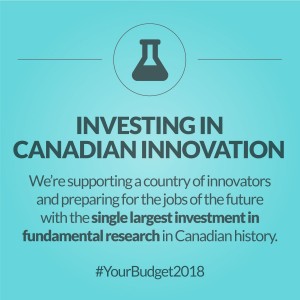 Did you know that Budget 2018 proposes the single largest investment in fundamental research in Canadian history?
We are a country of innovators. When we foster courage, curiosity, creativity and Canadians' collaborative spirit – we promote the kinds of innovations and technologies that improve our daily lives and drive our economy, and our country, forward.
And by supporting cutting-edge research today, we are creating more job opportunities and equipping Canadians with the right skills for the jobs of tomorrow.
---
With Budget 2018, the Government proposes to:
Invest in the next generation of Canadian research and researchers by providing more than $1.7 billion over five years to:

support the granting councils and research institutes so they can provide increased support and training opportunities for the work of some 21,000 researchers, students and high-quality personnel every year, including funding targeted specifically at research that promotes collaboration and is international and interdisciplinary;
ensure researchers have the necessary space and support to undertake high-quality multidisciplinary research, providing funding for the Research Support Fundthat provides universities with resources to cover the indirect costs of research; and
attract and retain leading, young and early-career researchers at post-secondary institutions across the country through new funding for the Canada Research Chairs

Invest $1.3 billion over five years to ensure researchers have access to the world-class research laboratories and equipment they need at Canadian universities, polytechnics, colleges and research hospitals, including $763 million for the Canada Foundation for Innovationand $572.5 million for a Digital Research Infrastructure Strategy.
With Budget 2018, the Government also proposes to renew its commitment to supporting scientific research:
Enhance National Research Council Canadato reinforce its research strengths and its role as a trusted partner with large-scale national teams committed to exploring disruptive technologies and cutting-edge innovation.
Bring together federal scientists and researchers across the country, proposing $2.8 billion on a cash basis over five years to build collaborative federal science and technology facilities.
Through Budget 2018, the Government also proposes to provide $2.6 billion over five years in additional support to make it easier for Canadians to do business and for entrepreneurs to access the resources they need to innovate, scale up, create jobs and reach new customers around the world.