Remembering Mona Parsons on Nova Scotia Heritage Day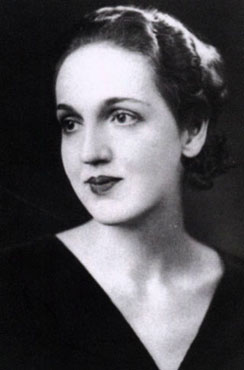 Over Canada's 150 years as a nation we have seen a number of incredibly brave and heroic individuals who make us proud to be Canadian. One of the lesser known examples of these heroes is Nova Scotia's own Mona Louise Parsons. Born 117 years ago on February 17th in Middleton, she grew up to be an actress, nurse, and member of the resistance in Nazi occupied Netherlands.
After moving to the Netherlands with her husband in 1937, she would live a comfortable life until May 1940, when the Nazis invaded. Shortly after Nazi occupation began she joined a resistance network, and sheltered downed Allied airmen in her home before helping them return to England. She even dismissed her servants to prevent word of her actions from spreading. The amount of pilots she helped save is unknown, but she was able to serve for almost a full year and a half before her network was infiltrated.
Mona would be captured by the Gestapo, and was one of the few women that the Nazis tried by a military tribunal in the Netherlands, demonstrating just how valuable her contributions were to the Allies. She would be sentenced to death, but responded to her sentence with such dignity and calmness that the judge permitted her to appeal. Instead, she would be sentenced to life imprisonment with hard labour.
For years she worked in Nazi prison camps, often malnourished, sick, and in deplorable conditions. But, in March 1945, she was able to escape with a Dutch Baroness. Using her acting skills, she pretended to be the Baroness' disabled Aunt in order to prevent drawing suspicion with her Canadian accent while speaking German. They travelled over 125 km during the German winter in short-sleeved clothes, and with no shoes for part of their journey. Eventually they became separated near the German border, but Mona pushed on. Upon finding a Dutch farmer, he helped take her to Allied troops and was rescued by the North Nova Scotia Highlanders.
After the war, she received commendations for her bravery in helping rescue Allied crewmen by both Air Chief Marshal Lord Arthur Tedder of the Royal Air Force on behalf of the British people, and from General Dwight Eisenhower, expressing the gratitude of the American people.
After her husband died in 1956, she returned home to Nova Scotia with nothing as all of his possessions were given to his mistress and illegitimate son due to Dutch laws. Upon her return to Canada in 1957, she reunited with a childhood friend, Major General Harry Foster, and would marry him in 1959. Upon Foster's death in 1964 she moved back to Wolfville in 1970 and remained there until she passed away in 1970.
Mona Parsons is a true Canadian hero, and in 2005, Historica Canada released a Heritage Minute in her honour: